Rubicon Mortgage Fund's Fourth Quarter Review, Yearly Review, and Outlook for 2015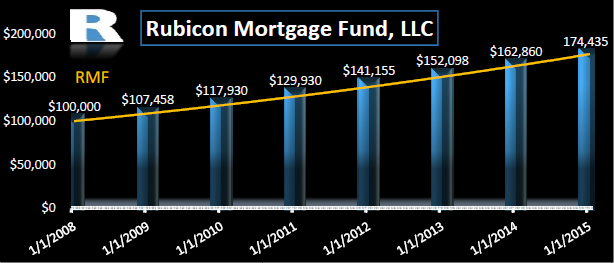 4th Quarter in Review:
Fourteen new loans totaling approximately $6,100,000 were made this quarter. The Fund also received five pay offs from current borrowers. Approximately twenty investors either added to their existing accounts or opened a new account totaling just under $3,000,000. The Calpine Lodge, one of our two REOs, was finally sold for $500,000! After this sale the Fund holds only one REO that represents less than 1% of the Funds' assets.
Year in Review:
The Fund had a fantastic year! Returns remained consistent to its investors; the compounded return was once again over 7%. The Fund added over $14,000,000 in new investor monies. This growth has allowed RMF to spread its risk over 62 loans up from approximately 40 loans at the end of 2013. Two of the three REOs have been sold. Management made over 40 loans in 2014 keeping our portfolio current and fresh. Roughly 20 loans were paid off during the year enabling management to recycle the money and minimize our risk.
Transparency:
All Rubicon Mortgage Fund investors receive monthly account statements either electronically or paper, the quarterly update from the manager (like this one), and a copy of the Fund's annual audit. All of Fund's annual audits since its 2008 inception as well as the quarterly updates are posted online on our website www.Rubiconfund.net if you missed any or wish to go back and review them. Also if you have signed up for monthly distributions you should be receiving either an ACH deposited directly into your bank account or a hard check sent to your mailing address. Finally all investors should be receiving an email electronic "blast" every time a loan is funded. We want you to see where your money is invested.
Outlook for 2015:
We have all had the luxury of a strong real estate market the past few years. This will not happen forever. By no means are we projecting a bad year for the real estate market but we will need to proceed with more caution now that the market has recovered from such a low. Today's prices are much more reasonable and in some cases are becoming expensive. It is not the time to "stretch" for loans or "force" a deal. Cash is not a problem. You have heard this from us before but we will continue to "take what the marketplace gives us." Capital preservation is the most important goal for our fund and its investors. Although interest rates are historically low, we believe that similar returns in 2015 will be achieved as was in 2013 and 2014. Hopefully, interest rates will increase thus, creating higher returns for the Fund. As you may remember from past quarterly letters, our loans are short term so when rates increase we will have the flexibility to adjust our pricing, so interest rate risk is minimized.
Graph of Rubicon's returns since 2008: (this represents an actual account that has compounding returns)
Sincerely,
Rubicon Mortgage Fund, LLC