Existing Rubicon Fund Members
As a RMF Investor, you are able to increase your commercial real estate investment by re-investing rather than take a monthly distribution (or vice-versa). Simply fill out the Subscription Addendum if you'd like to make any investment changes. You can download the Addendum from the Forms page.
Rubicon Mortgage Fund, LLC now has the capability to send your monthly statement via email. Simply email us with your name and email address and we will set you up for the next monthly statement.
Also, for your convenience, we are able to direct deposit your monthly distribution into your bank account. Just fill out the ACH Credit Form, sign and fax back to us 925-283-8353. We will get you set up to electronically receive your monthly distribution and save you a trip to the bank!
If there is anything we can do to make investing with us more convenient, please contact us and give us your suggestions!
Rubicon Mortgage Fund - Investor Video
FREQUENTLY ASKED QUESTIONS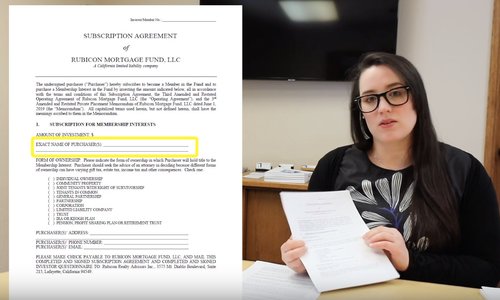 RUBICON MORTGAGE FUND
INVESTOR GROWTH CHART *
March 1, 2008 – PRESENT
* This is an actual Rubicon Mortgage Fund, LLC account. This investment has been compounded without monthly withdrawals. This table represents past returns and does not guaranty future returns.
"How many millionaires do you know who have become wealthy by investing in savings accounts? I rest my case."
– Robert G. Allen