Seller carryback financing: When a seller becomes the bank.
Looking to cash in on a seller carryback note? In this video, Rubicon's Jake, Casey, and Cesar discuss what seller carryback financing is and why we have been seeing so many more recent transactions take place using seller carryback financing.  
For any additional questions, please reach out to our office at 925-283-8919.
A detailed list of our lending criteria can be found at: 
https://rubiconmortgagefund.com/borrowers-lending-criteria/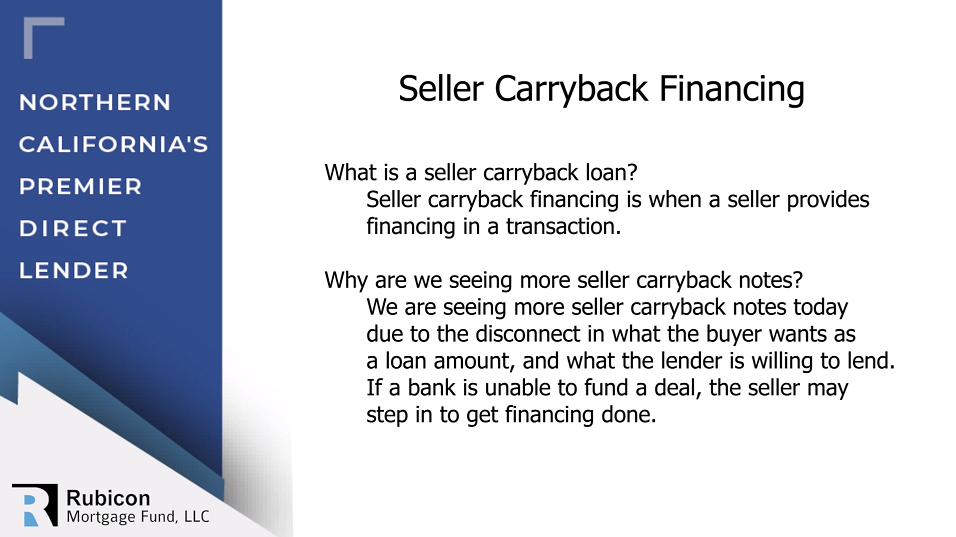 If you are looking to cash in on a seller carryback note or become a borrower, here is what to expect from Rubicon:
Accelerated turnaround time on quotes and terms. Reliability to complete your transaction fast and efficiently. Extensive knowledge of creative and secured loan transactions. Rubicon will fund all property types funded except owner-occupied residential. We do Note Hypothecations or loans for Note Purchases but we do buy notes. Rubicon also physically inspects each property we lend on. 
LENDING GUIDELINES:
Property Location:California lending only
Loan Amounts: $250,000 – $15,000,000
Loan-to-Value (LTV):  Up to 65% LTV
Rates: starting at 8.00% interest only
Fees:  Starting at 1.5% (points)
Loan Position:  1st Position Only
Loan Term:  Up to five years
Prepayment Penalty:Negotiable
Use of Proceeds: Business and Commercial purposes (exceptions may apply)
Asset-Based Private Money Lending
makes sense when:
Private lending makes sense when your current loan is coming due and you are unable to refinance or qualify for a conventional loan. It also makes sense when you need to buy out a partner or spouse or if you are in need of cash out for property improvements. Transaction speed matters and you have a hard deadline you need to meet for funding.